Ceylon under the Cholas:
Upto the middle of the tenth century, Chola military expeditions to Ceylon were in the nature of brief but destructive incursions, and once the immediate objectives of the mission had been achieved, the Chola armies withdrew to the mainland.
Under Rajaraja (983-1014), however, the Cholas embarked on a more aggressive and ambitious program of conquest which brought the Sinhalese kingdom under their direct rule. Rajaraja I conquered Anuradhapura in the last years of the tenth century.
All the country, save the southern parts which were still in the hands of the Sinhala inhabitants, now became a province of the Chola empire, which included the Pandya and Kerala countries as well.
Rajaraja struck base gold coins in imitation of the then current gold kalanda (Codrington's type III 'jessamine flower and chank') at Anuradhapura, except that they have the legend Sri Rajaraja ('king of kings') in the same script as on the kalanda.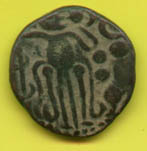 The copper coins of Rajaraja are of a curious concave shape and is of a rough and coarse extraction, fine specimens being very scarce.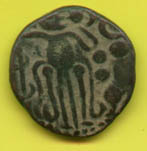 Rajendra I, his son and successor, completed the conquest in A.D. 1017 by the capture of Mahinda V, the last Sinhala king to rule at Anuradhapura, who was exiled to India, where he died in imprisonment.

Chola rule in Sri Lanka had lasted seventy-seven years.

Vijayabahu I, after a protracted and desultory warfare, was able to expel the Cholas and reunite Sri Lanka in one sovereignty in A.D. 1070.

Sales: As we do not sell from this website, we recommend that you check out the excellent selection of Ceylon material that is generally available with the US based Asian Collectibles Network, we find their quality and service to be excellent.

[ Ancient Ceylon ] [ Pandyan ] [ Pallava ] [ Roman ] [ Chola ] [ Setu ] [ Medieval Gold ] [ Sinhalese 12 to15 cent ] [ Portuguese ] [ Dutch ] [ Kandyan ] [ British ] [ Ceylon 1948 to 72 ] [ Sri Lanka Republic ] [ Tokens ] [ Links ]