[ Vijaya Bahu I ] [ Parakrama Bahu I ] [ Lilavati ] [ Sahasa Malla ] [ Dharmasoka ] [ Parakrama Bahu II ] [ Vijaya Bahu IV ] [ Buvanaka Bahu I ] [ Lion Parakrama Bahu ] [ Nissankamalla ]
Dharmasoka Deva (1208-1209):
The only real feature of the reign of the infant king Dharmasoka was the dominant role of the king maker Ayasmanta, who had previously displaced Sahasamalla from the throne.
The tiny Dharmasoka one eighth massa of the same type as that of Parakramabahu I, but with the legend Sri Dharmasoka Deva, is one of the rarities of the Sinhala coinage of this period.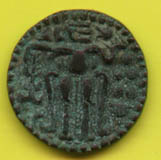 Sales: As we do not sell from this website, we recommend that you check out the excellent selection of Ceylon material that is generally available with the US based Asian Collectibles Network, we find their quality and service to be excellent.
[ Vijaya Bahu I ] [ Parakrama Bahu I ] [ Lilavati ] [ Sahasa Malla ] [ Dharmasoka ] [ Parakrama Bahu II ] [ Vijaya Bahu IV ] [ Buvanaka Bahu I ] [ Lion Parakrama Bahu ] [ Nissankamalla ]