[ Punchmarked coins ] [ Lakshmi coins ] [ Elephant Swastika ] [ Tree and Swastika ] [ Maneless Lion ] [ Rectangular Bull ]
Elephant & Swastika: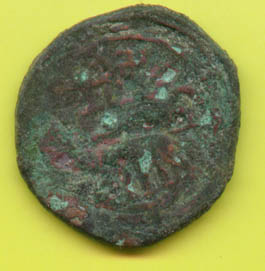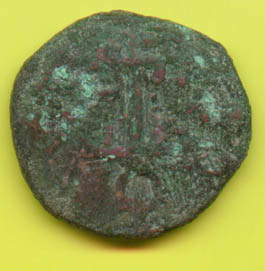 The Elephant & Swastika type: Large circular copper coins, struck with two dies, one on each face; each die in point of fact was a group or arrangement of symbols. The coins are characterized by the following symbols found on the obverse: (a) A railed swastika – swastika mounted on a staff and surrounded by a railing or fence formed by four short basal uprights, two on each side of the staff

, the swastika revolving to the left (b) A stupa enclosing three relic cells

(e) A triangular symbol lying on its side.

The reverse has the usual swastika revolving to the right and stupa nandipada or taurine symbol consisting of a trident head, with the side prongs curved and longer than the central one, surmounting a circle with a pellet in the center; and a double triangle symbol composed of two triangles joined apex to apex in a vertical position, with a bar across the joint.

As noted, the swastika on reverse revolves to the right. In the specimen above though, the reverse swastika is revolving to the right as normal but the smaller swastika on the Obverse is revolving to the LEFT. This is a new variety for this scarce coin.

It has been ascertained that the coins cannot be later than the first century B.C. and may even be earlier, that is, as far back as the second century B.C.

Sales: As we do not sell from this website, we recommend that you check out the excellent selection of Ceylon material that is generally available with the US based Asian Collectibles Network, we find their quality and service to be excellent.