[ Vijaya Bahu I ] [ Parakrama Bahu I ] [ Lilavati ] [ Sahasa Malla ] [ Dharmasoka ] [ Parakrama Bahu II ] [ Vijaya Bahu IV ] [ Buvanaka Bahu I ] [ Lion Parakrama Bahu ] [ Nissankamalla ]
Parakrama Bahu VI (1411-1466):
The long reign of Parakrama Bahu VI was the last glorious period of Ceylon history with notable achievements in peace as well as in war. In it's first phase, his capital was at Rayigama, close to Kotte. By 1425 he established himself at Kotte and founded what became the Kotte kingdom. He was the first Sinhalese king since the days of Parakrama Bahu I and Nissanka Malla to bring the whole island under his rule and was in fact the last to do so.
The coins of Parakramabahu VI, whilst being rarer than most other Sinhalese copper Massa coins, is easily identified as the obverse of the coin has the figure of a Lion in front of the human figure. Parakrama Bahu VI incidentally was called the 'Lion King of Kotte'
This copper 'lion' massa was struck probably at the capital Nallur, after his general prince Sapumal (Senanayaka Sapu Kumaru) conquered Jaffnapatnam (Yapa patuna), the Arya chakravarti having been slain in battle. This event is described in the Sinhala poem of that time, the Salalihini Sandesaya, composed in the king's thirty-fifth year (Parakumrajuta pan tis vana navam masa) thus, it seems to have taken place in A.D. 1447. Doubtless Parakrama's 'lion' appeared not much later.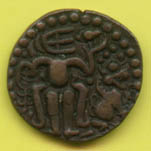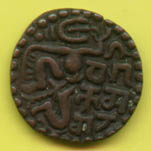 Sales: As we do not sell from this website, we recommend that you check out the excellent selection of Ceylon material that is generally available with the US based Asian Collectibles Network, we find their quality and service to be excellent.
[ Vijaya Bahu I ] [ Parakrama Bahu I ] [ Lilavati ] [ Sahasa Malla ] [ Dharmasoka ] [ Parakrama Bahu II ] [ Vijaya Bahu IV ] [ Buvanaka Bahu I ] [ Lion Parakrama Bahu ] [ Nissankamalla ]