[ Punchmarked coins ] [ Lakshmi coins ] [ Elephant Swastika ] [ Tree and Swastika ] [ Maneless Lion ] [ Rectangular Bull ]
Maneless Lion coin:
These have been found inside the platform and below the pavement level of the Jetavanaramaya built by king Mahasen (277 - 304 A.D.) and have since been conclusively identified as being from the reign of King Mahasen.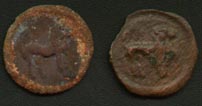 On the obverse, in line circle, maneless Lion stands facing right, normally.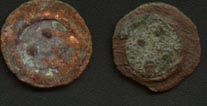 On the reverse, in line circle, four dots disposed in a cross
Sales: As we do not sell from this website, we recommend that you check out the excellent selection of Ceylon material that is generally available with the US based Asian Collectibles Network, we find their quality and service to be excellent.