[ Up ] [ Type I ] [ Type II ] [ Type III ]
Kahavanu gold coins: type I:
Type I coins are elegantly executed, the outline of the figures is sinuous, and the lettering of the legend so fine and clear; the gold is good.

These coins are further characterized by the standing figure on the obverse posing with the left arm bent and the hand placed on the waist. The symbols, according to which the varieties are distinguished are on the reverse only.

It has been suggested that these elegantly struck (type I coins), perhaps comprised a limited issue meant exclusively for royal donations and grants made to monastic and other establishments under the kings patronage, ended up being stored as wealth. The majority of them seem to be in a fine state of preservation, precluding the possibility of their ever having been much in circulation; they are very rare.

On the reverse side of each coin the number of subdivisions on the treasure-deposit (nidhi-kostha), which is equivalent to its fine gold content in masaka, affords a ready means of reckoning its gold fineness.

Within the type I kalanda Kahavanu coin, there are two major varieties:
The 'Sun & Moon' variety: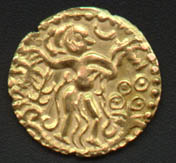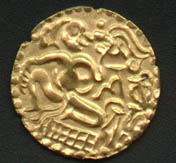 The most significant feature of the Sun & Moon type I coin is that on the obverse above L of the standing figure, a Crescent and on the Reverse, in hand, a Crescent with dot above (Sun & Moon).
The other type 2 variety is the 'Vase'; there are many variants of the Vase variety.
Sales: As we do not sell from this website, we recommend that you check out the excellent selection of Ceylon material that is generally available with the US based Asian Collectibles Network, we find their quality and service to be excellent.