[ Vijaya Bahu I ] [ Parakrama Bahu I ] [ Lilavati ] [ Sahasa Malla ] [ Dharmasoka ] [ Parakrama Bahu II ] [ Vijaya Bahu IV ] [ Buvanaka Bahu I ] [ Lion Parakrama Bahu ] [ Nissankamalla ]
Nissankmalla (1187-1196):
After Parakramabahu I, the throne passed to Nissanka Malla of the Kalinga dynasty, who in his inscriptions vindicates the right of his dynasty to the throne of Lanka claiming descent from Vijaya, the first king. He ruled for nine years.
His coins bear the curious legend Sri Kale(m)ga La(m)keja in the Nagari script – perhaps a version of his Sinhala title Kalingu Lakindu, Kalinga monarch of Lanka, used by this king in his Hatadage slab inscription. Along with the Parakramabahu I and Codaganga, the Nissankamalla massa is of the highest rarity among Ceylon coins.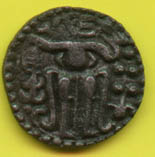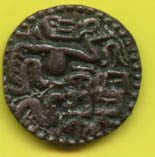 Sales: As we do not sell from this website, we recommend that you check out the excellent selection of Ceylon material that is generally available with the US based Asian Collectibles Network, we find their quality and service to be excellent.
[ Vijaya Bahu I ] [ Parakrama Bahu I ] [ Lilavati ] [ Sahasa Malla ] [ Dharmasoka ] [ Parakrama Bahu II ] [ Vijaya Bahu IV ] [ Buvanaka Bahu I ] [ Lion Parakrama Bahu ] [ Nissankamalla ]