Pallava coins found in Ceylon:
South Indian politics constituted a fairly powerful element of instability in the ancient Anuradhapura kingdom of Ceylon. It is well known that the Sinhalese king Manavamma captured power with Pallava assistance and his accession to the Anuradhapura throne marked the beginning of a long period of association with the Pallavas.
The Pallava cast is a standing Lion, quite different from the Sinhalese Lion.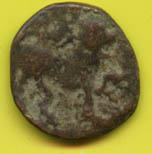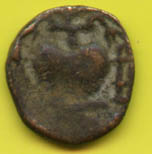 On the obverse, the Lion is facing right within bead circle, long tail curved upwards, on the reverse there is a large flower pot. In copper, thick.
Sales: As we do not sell from this website, we recommend that you check out the excellent selection of Ceylon material that is generally available with the US based Asian Collectibles Network, we find their quality and service to be excellent.
[ Ancient Ceylon ] [ Pandyan ] [ Pallava ] [ Roman ] [ Chola ] [ Setu ] [ Medieval Gold ] [ Sinhalese 12 to15 cent ] [ Portuguese ] [ Dutch ] [ Kandyan ] [ British ] [ Ceylon 1948 to 72 ] [ Sri Lanka Republic ] [ Tokens ] [ Links ]