[ Vijaya Bahu I ] [ Parakrama Bahu I ] [ Lilavati ] [ Sahasa Malla ] [ Dharmasoka ] [ Parakrama Bahu II ] [ Vijaya Bahu IV ] [ Buvanaka Bahu I ] [ Lion Parakrama Bahu ] [ Nissankamalla ]
Sahasa Malla (1200-1202):
Sahasamalla who displaced Lilavati, belonged to the Kalinga royal family and was a half brother of Nissanka Malla. He succeeded to a troubled state torn by factional strife and ruled for just two years till he was deposed by a general named Ayasmanta.
Despite his short reign, Sahasamalla coins were in widespread use. Although the copper coin is met with frequently, the Silver Sahasamalla Massa is a rare coin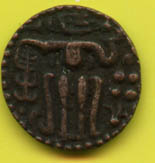 It is curious that more of his coins with legend Srimat Saha Malla or Srima Sahasa Malla have been found than of any of the others, though his reign lasted but two years.
Sales: As we do not sell from this website, we recommend that you check out the excellent selection of Ceylon material that is generally available with the US based Asian Collectibles Network, we find their quality and service to be excellent.
[ Vijaya Bahu I ] [ Parakrama Bahu I ] [ Lilavati ] [ Sahasa Malla ] [ Dharmasoka ] [ Parakrama Bahu II ] [ Vijaya Bahu IV ] [ Buvanaka Bahu I ] [ Lion Parakrama Bahu ] [ Nissankamalla ]