[ Vijaya Bahu I ] [ Parakrama Bahu I ] [ Lilavati ] [ Sahasa Malla ] [ Dharmasoka ] [ Parakrama Bahu II ] [ Vijaya Bahu IV ] [ Buvanaka Bahu I ] [ Lion Parakrama Bahu ] [ Nissankamalla ]

Vijayabahu I, after a protracted and desultory warfare, was able to expel the Cholas and reunite Sri Lanka in one sovereignty in A.D. 1070.

He was indeed the first Sinhala king who had his coins inscribed with his name. They closely resemble the gold coins of the Chola emperor Rajaraja, and bear on the reverse the legend Sri Vijayabahu in the Nagari script.

Though coins of fairly good gold approaching the kalanda standard are rarely found, the metal is often either silver or gold so debased as to be hardly distinguishable from silver. It is evident that there has been a marked degeneration in the fineness of the metal used in his coinage in the course of his long reign of fifty-five years.

The Vijayabahu gold coin, quite similar to the later copper massas of this era, is usually found in pale gold or even in base metal, coins of good gold are rare.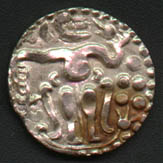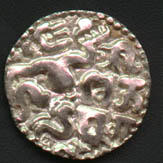 Copper coins with the legend Sri Vijayabahu belong to Vijayabahu IV. Vijayabahu I died at the age of seventy-three, about A.D. 1111.
Sales: As we do not sell from this website, we recommend that you check out the excellent selection of Ceylon material that is generally available with the US based Asian Collectibles Network, we find their quality and service to be excellent.
[ Vijaya Bahu I ] [ Parakrama Bahu I ] [ Lilavati ] [ Sahasa Malla ] [ Dharmasoka ] [ Parakrama Bahu II ] [ Vijaya Bahu IV ] [ Buvanaka Bahu I ] [ Lion Parakrama Bahu ] [ Nissankamalla ]