[ Punchmarked coins ] [ Lakshmi coins ] [ Elephant Swastika ] [ Tree and Swastika ] [ Maneless Lion ] [ Rectangular Bull ]
Cast type Lakshmi coins:
The regular, normal type of the cast coin has a high percentage of lead, has a height 28-30 mm, width 10-12 mm, thickness of 1 - 2mm and weighs from 10 to 15 grams.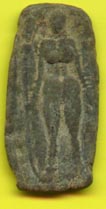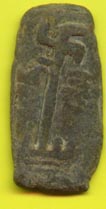 On the obverse: the goddess Lakshmi is clad in a broad girdle, wearing earrings, two bracelets, stands on a lotus, grasping two stalks of the same plant which spring beneath her feet and end at her shoulder level, upon these stand a small Elephant holding a water pot in it's upturned trunk.
On the reverse: swastika revolving RIGHT mounted on a staff indicated by four vertical lines arising from a horizontal line.
The miniature Lakshmi coin:


These are not broken pieces of the larger coins but miniature versions of the regular sized cast coins, they show the full figure on the obverse and the swastika (again revolving to the right) on the reverse. The miniature Lakshmis are around 15 - 18mm in height, 4 - 6mm in width, 1mm in thickness, and weigh upto 2 grams although these measurements vary considerably. The mini Lakshmi in good condition with figure, swastika and symbols clear is scarce.
Sales: As we do not sell from this website, we recommend that you check out the excellent selection of Ceylon material that is generally available with the US based Asian Collectibles Network, we find their quality and service to be excellent.
[ Cast Lakshmi ] [ Struck Lakshmi ] [ Square Lakshmi ]