[ Vijaya Bahu I ] [ Parakrama Bahu I ] [ Lilavati ] [ Sahasa Malla ] [ Dharmasoka ] [ Parakrama Bahu II ] [ Vijaya Bahu IV ] [ Buvanaka Bahu I ] [ Lion Parakrama Bahu ] [ Nissankamalla ]
Buvanaka Bahu (1273-1284):
Buvanaka Bahu, the brother of Vijaya Bahu IV, was a great warrior king and after residing for a few years at Dambadeniya, took up his abode at Yapahuva, another new capital for Ceylon. An embassy despatched by him to the sultan of Egypt was received at Cairo in April 1283.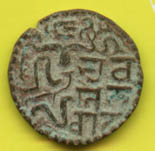 Sales: As we do not sell from this website, we recommend that you check out the excellent selection of Ceylon material that is generally available with the US based Asian Collectibles Network, we find their quality and service to be excellent.
[ Vijaya Bahu I ] [ Parakrama Bahu I ] [ Lilavati ] [ Sahasa Malla ] [ Dharmasoka ] [ Parakrama Bahu II ] [ Vijaya Bahu IV ] [ Buvanaka Bahu I ] [ Lion Parakrama Bahu ] [ Nissankamalla ]