[ Vijaya Bahu I ] [ Parakrama Bahu I ] [ Lilavati ] [ Sahasa Malla ] [ Dharmasoka ] [ Parakrama Bahu II ] [ Vijaya Bahu IV ] [ Buvanaka Bahu I ] [ Lion Parakrama Bahu ] [ Nissankamalla ]
Parakrama Bahu II (1236-1270):
Parakramabahu II of the Dambadeniya dynasty has been credited with reviving the Sinhala coinage that ceased under Magha, the Kalinga usurper Magha (A.D. 1215-1236), who reduced the nation to anarchy.
A significant even during the rule of Parakrama Bahu II was the only recorded South East Asian invasion of Ceylon, this was by Chandrabhanu of Tambralinga, a petty kingdom in the Malay Penninsula.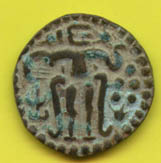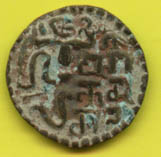 Sales: As we do not sell from this website, we recommend that you check out the excellent selection of Ceylon material that is generally available with the US based Asian Collectibles Network, we find their quality and service to be excellent.
[ Vijaya Bahu I ] [ Parakrama Bahu I ] [ Lilavati ] [ Sahasa Malla ] [ Dharmasoka ] [ Parakrama Bahu II ] [ Vijaya Bahu IV ] [ Buvanaka Bahu I ] [ Lion Parakrama Bahu ] [ Nissankamalla ]