[ Vijaya Bahu I ] [ Parakrama Bahu I ] [ Lilavati ] [ Sahasa Malla ] [ Dharmasoka ] [ Parakrama Bahu II ] [ Vijaya Bahu IV ] [ Buvanaka Bahu I ] [ Lion Parakrama Bahu ] [ Nissankamalla ]
Lilavati (1197-1200):
At the death of Parakrama Bahu I (1153-1186), the problem of succession to the throne arose and was complicated by the fact that he had no sons of his own. The intrigue and confusion which followed was cut short by the masterful Nissanka Malla but on his death the throne was bestowed upon Lilavati, a queen of Parakrama Bahu I, on three occassions.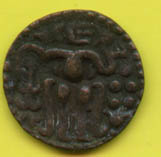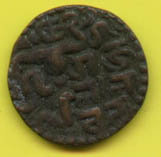 Lilavati's coins bear the legend Sri Raja Lilavati in Nagari letters.
Sales: As we do not sell from this website, we recommend that you check out the excellent selection of Ceylon material that is generally available with the US based Asian Collectibles Network, we find their quality and service to be excellent.
[ Vijaya Bahu I ] [ Parakrama Bahu I ] [ Lilavati ] [ Sahasa Malla ] [ Dharmasoka ] [ Parakrama Bahu II ] [ Vijaya Bahu IV ] [ Buvanaka Bahu I ] [ Lion Parakrama Bahu ] [ Nissankamalla ]